Individualized Financial Aid for Student Search
We use data science to predict key decision points, like a student's likelihood to apply, enroll, and stay (retention) and leverage the probability of those events to optimize the use of limited resources and achieve enrollment goals. Our strategy is set apart from others because it is individualized. With individualized awarding, you will have an aid strategy for each individual student, and each individual student will have a package fit just for them—a truly personalized approach.
Like everything else we do, this service is data-driven, customized, segmented and personalized.
Precise Allocation




With individualized awarding, you will have a precise aid strategy for each individual student. We determine each student's likelihood of enrolling at your institution and how grant and scholarship awards affect that probability. A student's individual enrollment factors are weighed along with your enrollment factors, making this approach more precise than the common, two-factor (merit and need) calculation.
Focus on Goal Achievement
The model is first built to maximize each student's probabilistic contribution to net revenue and then is adjusted to accomplish your enrollment goals. Understanding the relationship between net cost and yield ensures that you can focus limited aid resources on critical enrollment goals like headcount, net tuition revenue, and cohort composition.

Your aid strategy will be fully optimized—minimizing underspending as well as overspending—maximizing your enrollment.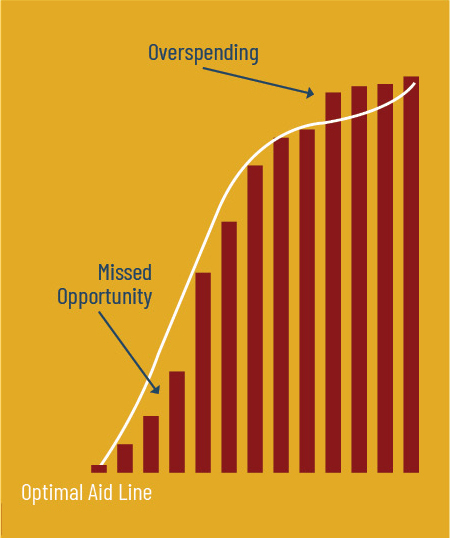 Optimized for Retention
We'll ensure your strategy is optimized for not only enrollment, but retention. What factors have the greatest impact on persistence or attrition at your institution? Is it academic achievement, geo-demographics, socioeconomic status, religious affiliation, financial aid or a combination of factors? We'll uncover the distinctive factors impacting retention at your institution and build a strategy that leverages that data for student success. Our Student Success Modeling can help you minimize melt, secure net deposits and maximize retention.
In-cycle Optimization

We help you make informed trade-off decisions to set achievable enrollment and financial goals, while helping you track your class every step of the way. Our experts become a part of your team providing on-going monitoring, for in-cycle optimization.
Aid Expertise
Through decades of experience, we can minimize overspending on student populations, increase award offerings to desired populations, and increase your yield while lowering your discount rate. Powered by Maguire Associates, bring over 40 years of experience in observing student behaviors and enrollment management challenges to your door.
Individualized Aid Strategy For Optimized Results.

Related Services.

Related Content.
Build your student search strategy.