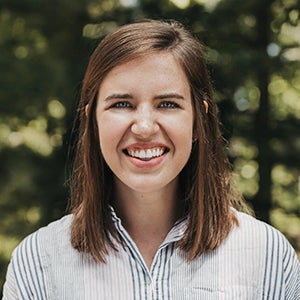 May 26, 2021
Persona
As an admission counselor and alumna, I was skeptical of what Carnegie Dartlet could accomplish for my institution's marketing strategy. I expected to be told by an outside agency how I should market my school, and I doubted the brand personality marketing strategies they'd deliver would ring true or resonate.
I'd also seen firsthand how much "beige" existed in recruitment marketing. I'd watch prospective students' eyes glaze over at student-faculty ratios and the number of clubs on campus (news flash: every school is saying the same thing). I knew the most meaningful connections happened when I went beyond the surface and had conversations with personal meaning and emotional depth.
Why Use Personality to Enhance Your Recruitment Marketing Strategy?
From the first moments of Carnegie's personality workshop, it was clear this approach was powerful and completely unique. The Carnegie team carefully listened and guided interactive conversations as stakeholders from across campus chimed in on traits and qualities that were true of our institution then, as well as who we wanted to be—and would never be—in the future.
Why undertake this kind of effort? Wouldn't it be easier to go with the messaging you've always used or make a guess about what might work well moving forward? In the face of shifting demographics, changing communication trends and needs, increasing financial pressure, and more—all of which have been amplified during the pandemic—higher education is facing a unique set of challenges that call for powerful solutions. There has never been a more crucial time to eliminate guesswork and center your marketing strategy on what's objectively right for your institution.
When it comes to recruitment marketing, it's safe—but rarely effective—to stay in the herd. Do a quick scan of your marketing materials and those of your competitors. You (and your prospective students) will likely find a mind-numbingly "same" array of smiling faces standing around campus, demonstrating next to nothing about who your institution really is or why a prospective student would choose you over any other school. Are we surprised when the results from this type of approach are less than stellar?
How Do Personality Solutions Work for Your Institution's Marketing?
When Carnegie approaches master brand positioning, we work with you to dig deeper and articulate your institution's personality and key differentiators. Is your school a dreamer? A leader? A caretaker? A rebel? No two institutions are exactly the same. We use a multifaceted, peer-reviewed methodology that uncovers your school's authentic traits—supported by market perception research, competitive analysis, and input from hundreds of your own stakeholders. Our positioning solutions use an easy-to-reference, color-based archetype system that equips you with tools to communicate effectively and remove subjectivity from your marketing decisions. We've seen this approach proven time and time again in the enrollment growth and results our partner schools have seen.
Get Started with Your Personality Solutions at Carnegie
Let Carnegie's higher ed marketing experts help your college or university reach your enrollment goals by telling your institution's authentic brand stories! Have questions about where your school could start or how you might be able to benefit from this type of approach? Reach out to us today.