Sep 20, 2021
Persona
Samford University's Marketing Success Story: From Research to Data-Driven Strategy to Head-Turning Creative
It's an incredibly rewarding experience for all of us at Carnegie when we have the privilege of working with a university through key phases of marketing and enrollment growth, helping realize institution-wide, oftentimes challenging goals with measurable success.
Such has been the case with Samford University. Our work with Samford began back in 2016, when their leadership sought a partner to determine its authentic personality, market position, and opportunities to increase reputational standing. As a premier academic institution, Samford sought bold, persuasive, cross-channel marketing guided by robust data and rooted in its true character.
Samford's brand strategy solution
Samford engaged in every step of our brand strategy work. Beginning with consensus-building workshops, market perception studies, and competitive analyses, we defined Samford's authentic brand story and key positioning opportunities in their market. This strategy was later augmented by student persona identification workshops that revealed a precise, segmented understanding of Samford's current and future students. This equipped the University with a data-informed and targeted strategy with which to make key marketing and enrollment decisions.
Creative that's rich in Samford personality
Over the ensuing five years, we brought that strategy to life through signature creative execution. Carnegie creative goes beyond generic expression to express an authentic story that's rich in personality. For Samford, we left no stone unturned, recreating the whole of their prospective undergraduate communications flow. From viewbooks and postcards to microsites and landing pages, we highlighted Samford's distinctive strengths, backed by vivid visual storytelling, that engaged students at crucial points in their journey. We overlaid this robust collateral set with a personality-driven campaign called Realized, providing a powerful affirmation of the potential and passion already within students and how Samford strengthens it into extraordinary offerings to the world. We reimagined visual assets, starting with the creation of a new Samford Bulldog, then filled up their photo library with personified photography that captures the deeper stories of life on campus.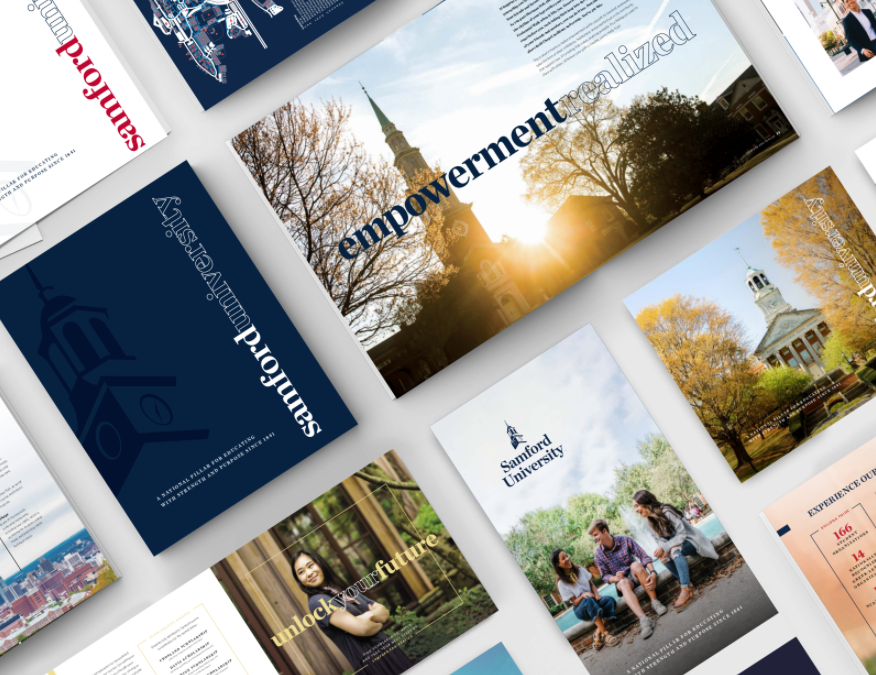 Integration for maximum impact
Rooted in this in-depth understanding of Samford's story, goals, and audiences, our partnership expanded into digital marketing efforts engaging both prospective undergraduate and graduate audiences through multi-channel tactics and platforms. Carnegie has also provided full life-cycle lead generation services for nearly two decades through our proprietary CollegeXpress platform building awareness, exposure and early pipeline development for the University.
Samford's success
Today, Samford continues to trust Carnegie as its primary producer of undergraduate admissions collateral and digital communications. The results have been decisive, with five years of record growth in applications, admits, deposits, and academic and geographic profile (including an 18% enrollment growth over the past five years) and 43% reduced spending on Search.
"Anybody can make a pretty picture. Carnegie creates research-backed, tested, psychometric storytelling that actually moves the needle. We are targeting the right students with the right custom creative, and our enrollment gains over the past three cycles are proof positive." Jason Black Assistant Vice President for Enrollment Management and Dean of Admissions Samford University
The team at Carnegie is excited to provide full life-cycle support for institutions looking for a strategic and creative partner. Contact us to start a conversation about your brand needs.