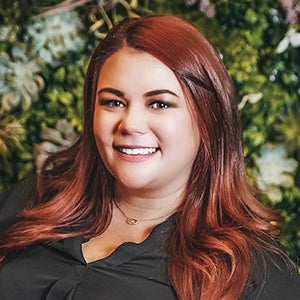 Jan 28, 2021
Persona
Every January, we're bombarded with messaging about our intentions for the new year. One thing I often recall about working on a university campus was focusing on the "here and now." Of course, I had my strategic plan and overarching goals for building next year's class, but let's be honest—my calendar quickly became focused on being reactive to things that emerged throughout the year. When progress toward goals is deterred by the here and now, we often feel like we spend our days treading water—or what I like to call "drinking from a firehose." 
After the year we just had, I decided to do something different when it came to purchasing my 2021 calendar. This year, I found a calendar that focuses on progress. It's important to remember that all good things start with one step, and by choosing progress, little by little our goals become a reality. Keeping with the theme of my planner, this mindset has already shaped many of the conversations I've had with schools over these first few weeks of 2021. Even in a pre-pandemic world, higher education was bracing for drastic demographic changes on the horizon. COVID-19 exacerbated these changes, and instead of bracing ourselves, we had to react. That being said, I share these insights with you as an opportunity to be present in the here and now, but more importantly to build the momentum needed to drive overarching results for the long term. 
Understand your competition
You know that drawer or digital folder that has all the recruitment collateral you collected over the years? Like me, you probably collected this information with the intention to have your institution stand out from the pack. This can provide a glimpse into what students experience, but it often doesn't tell the full story. In order to know what's possible for your institution, you have to have an understanding of your position within your competitive set. There's no better way to understand your competition than by diving deep into how they're telling their stories. What are they saying? What visuals are they using? How are they positioning themselves to differentiate from you and other competitors? The answers to these questions evoke emotions—the emotions of your prospective students. By answering these questions in a systematic way, you're able to identify opportunities for your story and for that story to set you apart. 
Here-and-Now Impact: Yield season is here, and it's a long runway to the fall. Knowing more than the surface-level messaging of your competitive set equips you with the strategy needed to stand out. Everything from your frequency and tone to channel strategy and more should be developed to disrupt the market and separate yourselves from your competition. The data gathered from your competitive audit will help you do just that. 
The Big Picture: This data and insight can and should be used to inform your enrollment and marketing strategy moving forward. Use this information to make small tweaks to existing strategies in play and to identify ways to diversify your approach. From this single competitive audit, you can anticipate leveraging the data to inform your strategy for three to four cycles. 
Think outside the box to increase yield
If 2020 taught us anything, it's that we can't be dependent on feeder school on-site visits or fairs that generated high lead volume. 
Not having traditional high school visits or the ability to be physically present at college fairs was truly the opportunity to think outside the box—or in this case, outside the classroom or conference hall. The demographics of prospective students changing coupled with increased competition across the industry has motivated many schools to take a closer look at their current market but also look toward new markets. How you identify and target those markets could be the difference between success and failure. It's not enough to simply act on a hunch—resources are too scarce to waste, and the stakes are too high to be wrong. Let data and research inform your decisions on where to direct your time and resources. 
So what should you be looking for? Do you know the current level of awareness your school has within your target markets? What kinds of institutions are attractive to students in those markets? Are they willing to travel? How much are they willing to invest in education? Then, from a market level, what's the right messaging strategy to announce your institution to the market in a way that will disrupt the competition? You should have answers to all these questions before you dive into a new market (and they're questions we can help answer).
Here-and-Now Impact: Insights such as institutional fit and travel/price elasticity can assist in navigating your yield and melt narrative. Having a deeper understanding of your current market allows you to refine your messaging to reduce barriers and uncertainties, realize untapped markets, and serve as a high-yield potential. 
The Big Picture: Data can and should be used to guide difficult conversations. The pandemic has resulted in operating budget cuts, with many schools being tasked to recruit with fewer resources, reduce staff, and drastically cut the number of campus visitors. This quantitative assessment positions you to stretch your recruitment and marketing dollars further by evaluating markets for their viability for recruitment. This precision allows you to focus budget to areas with a higher propensity of yield. 
Invest with short- and long-term goals in mind
You have a wealth of knowledge at your fingertips, and you're the champion for enrollment growth on your respective campus. As you look toward this year, leverage this knowledge by investing in strategy solutions to deliver here-and-now impacts while concurrently building momentum on your long-term goals. In a matter of weeks, Carnegie's research can deliver critical insights with actionable ways to inform and focus your marketing and enrollment strategies for your current pipeline and pipelines to follow. 
To learn how we can help you reach these goals, feel free to contact us anytime.