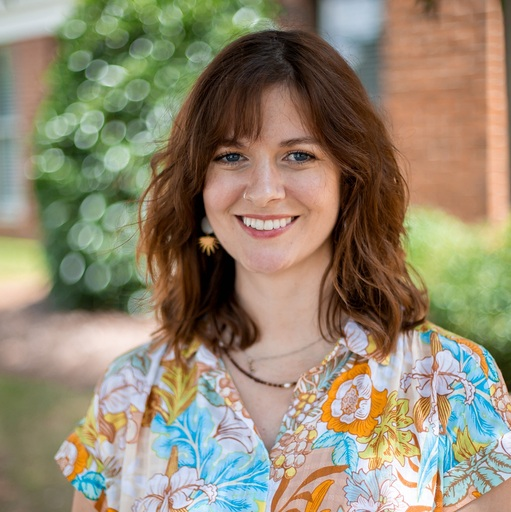 May 05, 2023
Persona
At Carnegie, we heavily rely on and trust the performance data we see from campaigns in Slate. From underclassman search to senior melt, we love to look at the numbers and let them guide us.
Despite all the data we're able to collect within Slate, there are still areas in which we want to learn more. We were interested in learning about students' communication preferences and behaviors, so our Slate Optimization team surveyed 1,689 high school students* and followed the survey with three focus groups**. Here's what we learned.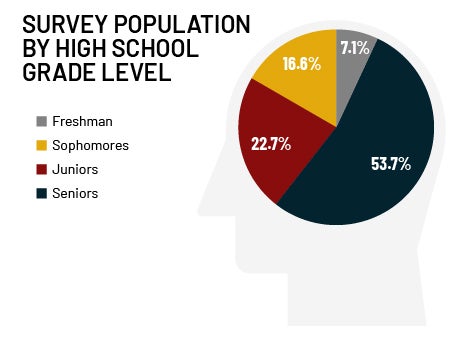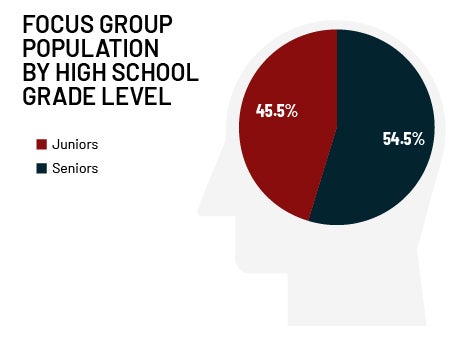 Email preferences
An institution's website is the first place most students are going to search for information. However, according to our survey, email is still a trusted source of information for students. Freshman and sophomore students said they are just as likely to read emails for information as they are to search the school website, while 57.8% of survey respondents said they want to receive emails from a single institution either once a week or once every two weeks.
If you're not yet running underclassman campaigns to freshmen and sophomores, this presents a great opportunity. According to our survey, most students only spend one or two minutes reading emails from an institution at a time, so it's best to keep your messages short and to the point.
Learn about how to send great emails to Gen-Z students.
Text notifications
Of the survey respondants who want to receive text message communications from colleges, 37% said they want reminders about their application, 31% want to receive steps to apply, and 30% want an invite to campus.
Incorporating mobile number and text opt-in options into your request for information forms can help your institution send informative and invitational text messages to the students who want them.
Learn how to run SMS enrollment campaigns.
Starting the college search
We found that 63.3% of seniors in our survey begin the college search during their junior year or later. Underclassman campaigns are increasingly important, but don't forget about launching your senior search campaigns early in the fall! Setting these campaigns on a drip marketing schedule in order to continuously pick up newly purchased senior names in the fall can help you reach those students who are starting the process later.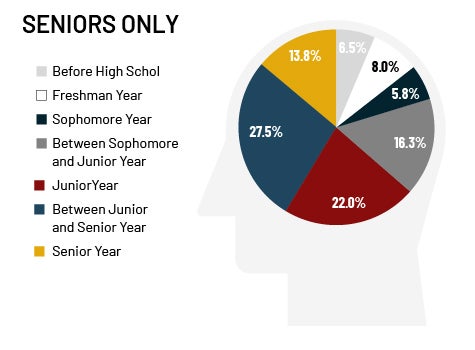 Where are students searching?
Outside of an institution's website, college search sites are among the first sources students are using for their college research. For our survey participants, these sites ranked fourth after the institution's website, emails from the institution, and Google. In the focus groups, however, sites such as CollegeXpress were the second place students reported turning to during their search.
College search sites allow students to search for colleges that meet their college list criteria. With CollegeXpress, students are able to add colleges to their interest list, and schools with subscriptions will receive those leads on a daily basis. This is a great place to acquire names for lead generation.
Takeaways
Starting underclassman search campaigns early is vital to reaching these students through your search emails, but don't neglect the importance of a timely senior search campaign.
The data points highlighted here are just a peek into what we learned from our survey and focus groups. We'll be publishing an on-demand webinar to share more exciting insights, including how email language and calls to action affect students' behavior, and what type of information is most important to students. Sign up here to be the first to receive the recording.
Let Carnegie help with your student search!
Are you ready to take your Student Search to the next level? Carnegie offers Student Search services that can help you determine the best name buy strategy and time while providing Creative and Slate services to build, send, and monitor effective search email campaigns through Slate.
Start a conversation today to partner with us!
* The purpose of this survey was initially for our own internal benefit and should not be taken as official research. The survey group was not randomized nor is it representative of high school students as a whole. Our survey comprises responses of 1,689 high school students from our CollegeXpress database.
** From the 1,689 survey respondents, we invited interested volunteers to participate in focus groups via Zoom. We conducted three focus groups which consisted of three to four high school juniors and seniors.