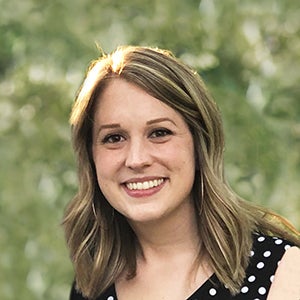 Jun 02, 2022
Persona
By "great," we mean emails prospective students will open, click on, and engage with.
At CollegeXpress, Carnegie's lead generation experts, we send A LOT of emails and we're good at it. We're talking hundreds of millions of emails sent to university-bound students resulting in millions of leads sent to partner institutions. Looking at our email data from 2021, as well as examples from brands most popular with our Gen-Z audience, we've learned a few things worth sharing about high-performing emails in the higher education space.
Before we get any further, let's talk about the elephant in the email room…iOS 15. The following conclusions are based on data from 2021, with special consideration taken to account for changes in open rates due to the launch of Mail Privacy Protection in September 2021. In summary, iOS 15 changed everything, but we kept this in mind.
Make your emails stand out in a jam-packed inbox
Your emails are not the only ones to hit the inboxes of prospective students. Between competitors, retail brands, and Aunt Ruth's email chain, give your message a fighting chance and do the following:
Personalize subject lines
Even if all you do is add a first name, it will help. CollegeXpress emails with personalization in the subject lines have open rates 8.5% higher than those without. Other than the first name, easy fields to use in subject lines are GPA and major of choice.
Use emojis
Our subject lines with a good old-fashioned 😀  perform 10.7% higher than those with only text. Emojis are a standard in Gen-Z digital communication, so don't be afraid to make your subject lines a bit more fun. Keep in mind, emojis evoke a more casual and informal tone. Depending on your brand or specific message, they may not always be appropriate i.e. "You have a massive tuition bill 🤑." Probably not the best use-case for an emoji.
Clean up your preheader with this hack from Litmus
In most cases, email preheaders are followed directly by the first line of body copy, causing the preheader to get lost in a sea of text. Add this bit of code to the top of your emails to ensure your preheaders stand out in an inbox. Our open rates increased 5.1% in less than two months because of this enhancement alone.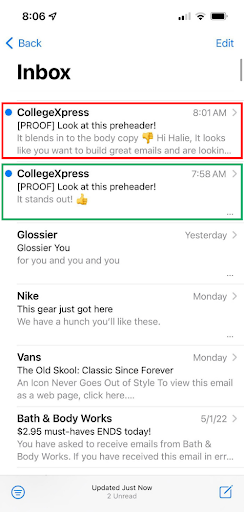 Set it and forget it
Modern CRMs make dynamic and sophisticated prospect communication possible in ways it has never been before. Don't let these powerful tools go to waste! It may take extra effort on the front-end, but email automation ensures that prospects receive a tailored narrative at all stages of the admissions process. Leverage this power and:
Use drip campaigns
Students respond with incredible engagement to content presented as part of an ongoing narrative. To be exact, drip campaign click-through-rates for the CollegeXpress audience are 634% (not a typo) higher on average compared to those of sporadic messages. Want to maximize awareness of your institutional identity and distinctives? Tell your story within a drip campaign.
Change up your send days
The reign of the Tuesday email send is over. Our data reveals no significant difference in email performance between various days of the week with two exceptions; Mondays are usually the day for clearing out the weekend inbox (high opens, but low clicks) and Saturdays are a surprise stand out with higher engagement than any other day. With time-based automation, you can mix up the day of the week emails hit inboxes.
Keep copy to a minimum and visuals to a maximum
With all the wonderful things that make your institution unique, the temptation with emails is to list every single one while thinking, "What if this bullet point is the difference between an enrolled student or a melt?". The result is a beautifully crafted piece of content…that prospects will never read. Gen-Z students are built to skim and need something to stop them in their tracks to click and take action. If you look at emails from other popular Gen-Z brands, they all have one thing in common: minimal copy and creative visuals. Following their lead and using our own data, we encourage you to:
Use quick copy with a clear call to action
While we all want to send one email to solve the world's problems, it's best to highlight the basics and direct your audience to your website, or better yet, a strategically crafted landing page. When comparing our text-heavy communications with easy-skimmers, our audience was 18.75% more likely to click through the emails with less copy.
Consider the other emails in the Gen-Z inbox
Popular brands like Glossier and Nike continue to use email to connect with this audience, but these are far from the "Dear customer" emails of yore. Check out this email Glossier sent recently:
Subject: awwwwwww
Preheader: wwwwwwww
Body: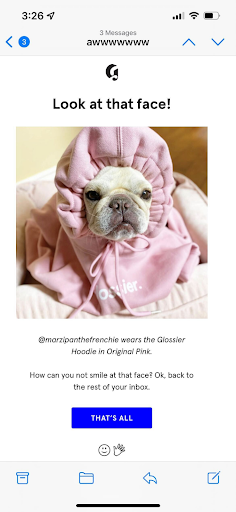 Our suggestion is not to base your communications on this pooch-perfect email, but to consider how your subject lines, preheaders, and body content will compare with these types of messages. Casual tone, large text, and authentic images are the standard for Gen-Z. Keep this in mind to position your next campaign for success.
Email has been around for decades and is not going anywhere anytime soon. Moving beyond cookie-cutter messages is crucial, now more than ever, to continue to leverage this medium with effectiveness. Now that you're armed with the best email tips in the industry (we're not biased), go forth and send awesome emails to recruit the best possible incoming class!
Wish you had a fairy godparent to help you set up email campaigns, get more leads, or build better landing pages? The team at Carnegie would love to partner with you. Connect any time.
Curious about the student experience on CollegeXpress? See it for yourself on collegexpress.com.