Mar 22, 2022
Persona
As higher education marketing professionals, our job is to connect with new audiences in novel ways. We craft the first impressions, identify the differentiators, and tell the human stories that tug at the heartstrings and inspire possibility. When we talk to students in person, we can show our enthusiasm. We can be warm and supportive, brag unabashedly, and we make a difference for students who are excited about their college adventure. But how do we do this for today's digitally immersed audiences? What do we need to convince prospective students to join our communities and give us their information so we can continue the conversation and make our case?
Higher ed marketers can build these relationships online in many ways: through a robust content strategy that shares the stories only you can tell, or with a user experience design that conveys your institution's community and sense of place, for example. But no matter how you differentiate your college or university, no matter how great your photos are, at the end of the day, higher ed marketers are accountable for creating content that converts.
How can you ensure your content resonates with your audience? Build and test smart landing pages.
What is a higher education landing page?
A higher education landing page is a page on your .edu designed to convert students into leads. That's it. That's its sole purpose. A landing page is different from other pages on your website for two reasons:
It has a form that allows you to capture a student's information in exchange for a desired offer. These often take the shape of request for information (RFI) forms.
It has minimal distractions (think different navigation, no other links) so the student is compelled to take the action. A home page with a form on it does not count as a landing page because it serves other purposes as well.
Landing pages can be standalone pages. (This is especially true if you're engaged in digital marketing campaigns.) But landing pages can also be your marketing-critical pages, such as academic program pages. Every website should have landing pages, and your .edu should use them strategically to drive traffic, improve SEO, and build your brand.
Start by thinking about the types of students you want to engage. Understanding who's interested in your college or university is an important component of any marketing strategy. Once you know what motivates a student to take action, you can build a landing page perfected to convert them.
10 components of an effective higher education landing page
A well-architected landing page is much more likely to convert students into leads. Your home page, for example, is not a great landing page because, by definition, it serves as a gateway to other pages containing more information about who you are as an institution, your academic offerings, admissions deadlines, and more.
Every landing page should have its own goal. If that means creating multiple pages for the same campaign based on the different outcomes you desire, that's a much better option than directing every campaign to your home page.
Here are 10 key components of designing a higher education landing page that converts students to leads: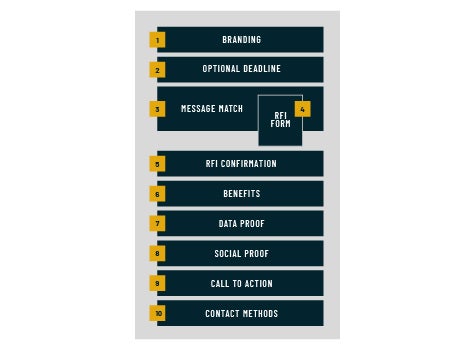 Branding.

Incorporate your institutional branding to build trust with prospective students and stand out from other colleges and universities.

Optional deadline.

Providing the prospect with an application deadline creates a sense of urgency.

Message match.

Your core marketing message and primary benefit should appear above the fold along with the RFI form and submit button. Headlines, subheads, and paragraph text should be distinctive and allow for easy scanning. Large, compelling, and high-quality images help immerse the prospect in your brand and reinforce your digital advertising messages.

RFI form.

The request for information headline should communicate the value of submitting the form. Use no more than four form fields—for example, first name, last name, email, and academic program of interest. Use a contrasting color, different from your primary brand color, for the call to action button.

RFI confirmation. Show your lead how you'll deliver on what you promised. Thank them for their interest and provide ways to further engage with your institution.
Benefits.

Clearly communicate why students should complete your call to action. Describe unique aspects of your programs, core advantages of your learning opportunities, or common outcomes. Relevant content shows how your institution can help prospective students overcome challenges or satisfy an immediate need.

Data proof.

Numbers can reinforce your marketing messages in a succinct and compelling way. Use data that relates to a prospective student's goal.

Social proof.

Students are more likely to convert when they're shown that others have derived value from your institution. Choose testimonials from students who are the most relevant and specific to your target audience.

Call to action.

Include a single call to action that compels students to do what it says. Your goal is to get prospective students into your marketing funnel.

Contact methods.

Supplying your address and ways to contact your college or university proves your legitimacy while increasing trust in your brand. 
Pro tips on creating a higher education landing page that converts
As a higher education marketer, it's your job to do everything in your power to make it easier for a prospective student to complete your landing page form. If you're wondering why students still aren't converting, here are some additional tips to keep in mind: 
Keep it simple.

Chances are your prospective student is overwhelmed by the college search process. Make it easier on them by providing a simple, stress-free landing page that offers a single purpose. This means removing distractions like additional links and even the site-wide navigation. You can nurture these students once you get their contact information and lead them down the right path. 
Create variations of the landing page for different message points.

Segmenting your student base helps you target specific audiences through custom campaigns. If you have students drawn to a particular academic program, for instance, your landing page can serve as a built-in segmentation device, allowing you to nurture students more effectively. Start small! Focus on priority academic programs or target audiences, for example. It can be overwhelming to create many variations of a landing page. 
Think mobile-first for Gen Z users.

Chances are that many of your ads are running on social media networks. Chances are also high that your audience is mostly Gen Z.

And Gen Z is most likely to engage with you through their mobile phones

. Don't trust that your landing page's desktop design will captivate a mobile audience. All content that's available on desktop should be available on mobile in relatively the same order of appearance. Avoid complex interactivity or modal interactions to make it easier for visitors to complete an action.

Make it accessible.

Landing page—and website—design should follow Web Content

Accessibility Guidelines

(WCAG) in order to be inclusive of all audiences and abilities.

Measure and test.

Testing is essential for conversion. Measuring success is the only way to know if your current landing page is the best version. Conducting A/B testing lets you see what version of a landing page results in more clicks, better conversions, and reduced bounce rates. A/B testing refers to the comparison of two versions of the same piece of content, with one item changed on the variation. You don't want to conduct just one A/B test on your landing page; instead, you should continuously test to make sure you're serving up just the right piece of content for your visitors.
Today's digitally immersed prospective students expect an integrated, seamless college search experience. It starts and ends with your top marketing tool: your website. Check out our webinar "A Whole New Web World: End-to-End Digital Solutions for Higher Education" to learn other ways you can invest in your site and convert more leads.