Aug 09, 2022
Persona
As higher education and marketing professionals, we are by no means lawyers. However, one law that affects our jobs that we need to pay attention to is called the CAN-SPAM Act. This isn't a new law; it was passed in 2003 and established standards nationally for commercial email messaging. According to the FTC's website, "the CAN-SPAM Act doesn't apply just to bulk email. It covers all commercial messages, which the law defines as 'any electronic mail message the primary purpose of which is the commercial advertisement or promotion of a commercial product or service,' including email that promotes content on commercial websites."
As a college or university, you may utilize Slate or another CRM to send beautifully designed drip campaigns in bulk. Since you're promoting your school, yes, these messages would be considered commercial. But worry not! We want to take a moment to show you how Slate makes complying with this act very simple.
Location, location, location
CAN-SPAM requires commercial messages to tell recipients where you are located. While some of your marketing messaging that focuses on your campus, location, and student life may allude to your campus's physical location, the Act requires that the physical address be included in each email message. Incorporating this address in your approved Deliver templates is the perfect way to comply. Our Slate Optimization team always includes a full, physical address in the footer of our beautifully designed templates, and this is a best practice we suggest starting at the beginning of a campaign. Setting the expectation for your office that certain templates with compliant footers are approved for mass emailing will help you ensure these are the only ones being used for commercial messages.
However, if there's a need to add an address to a set of emails already running, consider adding your physical address to your Message Group name in Deliver Configurations. This will add it to the standard unsubscribe box below the email itself. While this is more of a quick fix and we recommend including physical addresses in email footers, the Message Group addition will populate your school's address in every email using that Message Group without the need to stop, edit, and restart dozens of running mailings.
The opt-out story
The CAN-SPAM Act focuses heavily on providing opt-out options and honoring requests promptly. In November 2021, Slate released a new feature that will help institutions comply with this while staying true to their brand: a custom unsubscribe follow-up form. The CAN-SPAM Act also specifies that you can give recipients the option to opt-out of certain types of messages, but they also must have the option to opt-out fully. This can be done in a more personalized and stylized way through the custom opt-out form.
Additionally, our Slate Optimization team is able to hide the gray unsubscribe box that appears below all emails and replace it with a custom opt-out message within the email. Technolutions recently released the ability to link out to either the standard opt-out form or a custom opt-out form by using the following link settings: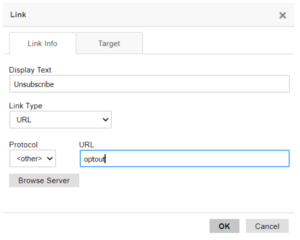 From there, we're able to take the student to a custom form to retrieve insight of their opt-out choice and reason should they choose to provide it. Our team can not only help you comply but utilize that information to help you make data-driven decisions about your communications campaigns. The process is simple and seamless for a student or family member when viewing emails originating from Slate. And with Slate's opt-out functionality built in, once the opt-out is requested, records will be marked as such and will be excluded from future communications.
Comply creatively
Another section of this act's requirements ensures that subject lines, pre-headers, reply-to emails, etc. all accurately reflect the email's origin. Our Creative team members are experts at writing engaging and compliant content, and our Slate Communications Strategists always enjoy using liquid mark-up for customizing creatively within the confines of the CAN-SPAM Act.
Slate Optimization isn't just about the best practices and functionality in Slate but how we use it to reach our markets effectively where they are. Our team is dedicated to partner success and provides value behind the scenes so you don't have to worry. The combination of support as well as cheering you on when we teach you a new skill is what Carnegie's Slate Communications Optimization is all about.
Ready to chat about your next Slate Optimization project? Reach out to see how our Slate Squad can help you stay ahead of the curve!
This blog was brought to you by Jess Severt, Senior Slate Strategist and Communications Manager, and Amanda Johnson, Senior Slate Strategist, from Carnegie's Slate Optimization team.