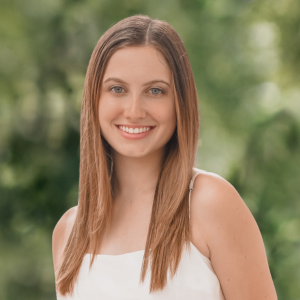 Jun 29, 2023
Persona
One of the best ways to make your marketing stand out on social media is to make it look as organic as possible. Long gone are the days of commercial-like videos and sales-y slogans. If you want to increase view times and conversions for your college or university's TikTok and Snapchat accounts, you need to blend in with user-generated content. Let us walk you through why organic-style content is important and how to create it.
Why organic-looking creative is important
When users open TikTok, they're automatically taken to their "For You" page, where they're shown content curated via TikTok's algorithm. Unlike other platforms that show you accounts that you're following first, this small but important change means it's easier for you to find and get sucked into new content on the app. It also makes it harder to tell which new content is chosen for you via TikTok and which are paid advertisements.
Bottom line: If your content looks organic, the user may not even realize it's an ad.
Users across TikTok and Snapchat are begging for real, organic-style creative. According to TikTok for Business, 52% of internet audiences said they want brands to be authentic, and Upbeat Agency states in their article that "If you're going to stop your prospects in their tracks, you'll need creative assets that instantly capture attention and highlight your product benefits."
Both TikTok and Snapchat are filled with brilliant, creative content producers. To get noticed, you need to match them. This is an opportunity to think outside the box. You could create unique content of a student doing a TikTok dance in various places on campus or a video ranking the five best foods in your dining hall. With TikTok reaching three billion downloads worldwide as of July 2021 and 375 million daily active users on Snapchat—the majority under the age of 34—it's worth taking the time to create videos with an authentic, organic style.
Best practices for making organic-looking creative
The best part about being creative on social media is that there's no one way to go about it! Try to focus on what feels true to your school and the types of videos your students are drawn to. Here are some tips to get you started:
Snapchat
Relatability:
What's essential to your prospective students: Academics? Social life? Financial aid? Make videos that highlight what matters to them.
Example: 5 Struggles of Filling Out the FAFSA (and How to Solve Them)
Humor:
Humor is a great way to not only grab your audience's attention but showcase the campus atmosphere and culture.
Example: Show your mascot causing "mischief" around campus (playing in a fountain, dancing on a table in the dining hall, etc.) to show off-campus spaces in a way that's silly and fun.
Personality:
What's different about your campus? What values do you hold? What are those nuances that make your institution stand out? Students are choosing a home for the next phase of their lives, so show them who you are and why they'd fit in.
Example: "Day in the Life" videos featuring different types of students (athletes, actors, engineers, etc.)
Suspense:
Showcasing just a few parts of campus may make viewers feel like they have to schedule a tour because they're excited to see the rest.
Example: Short clips and flashes of fun campus traditions and events
Moments:
You don't have to be all things to all people. Pick one aspect of the college experience and capture a moment in time. Bonus: You can film a bunch of "moments" at once and create a series for extra content.
Example: 5 Unexpected Dining Hall Food Combinations (one combo per video) is a unique, exciting way to showcase your dining options to future students.
Some general things to keep in mind:
Make your point quickly (don't beat around the bush!).
Feature one message (should the audience sign up for a visit? Apply? Learn more?).
Keep your objective in mind (the creative and message should match).
Think native (consider your platform and use what it offers like filters, emojis, etc.).
Try and work with your students—they can showcase your school's culture and the personalities around campus.
TikTok
Sound:
Sound is what makes TikTok different from other platforms. Be sure to use popular music, quotes, and movie dialogue, and don't forget to have your current students say something as well!
Trends:
Research the latest trends before making videos. For example, GRWM ("get ready with me") videos are currently popular. Try making one about going to a club meeting, orientation event, football game, etc.
Creators:
Directness:
According to TikTok, "Over 63% of all videos with the highest click-through rate (CTR) highlight their key message or product within the first three seconds."
Best practices for both platforms
Aside from the tips above, TikTok for Business offers additional best practices that can be used for both platforms:
Build brand trust and transparency: Let your audience know who you are immediately and what you stand for.
Create community connections: Use hashtags for your audience so they know who else is interested across social media, and utilize the comments section to bring people together.
Utilize Search Ads: Target users based on the specific terms they search for on TikTok. This is still in beta, but because Carnegie works closely with the platform, it can be flipped on for our clients.
Invest in paid options: Make your most-viewed content continuously available on the platform while turning it into an ad.
Involve current students: Have your undergrads get involved in your videos. Prospective students like to see campus firsthand and what a day in the life looks like.
At the root of it all, remember to keep the spirit of your university at the forefront of your Snapchat and TikTok videos. Being authentic will draw your audience in better than anything, and it's your chance to prove why your higher education institution is the best!
If you have questions or want to learn more about promotion for your school on social media, contact Carnegie's team today.