Financial Aid Modeling
We use sophisticated quantitative models to predict key decision points, like a student's likelihood to apply, enroll, and stay (retain) and leverage our understanding of those probabilities to optimize the use of limited resources and achieve enrollment goals. Our strategy is set apart from others because it is individualized. With individualized awarding, you will have an aid strategy for each individual student, and each individual student will have a package built just for them—a truly personalized approach. Like everything else we do, this service is data-driven, customized, segmented and personalized.
Individualized Awarding
We build a strategy that matches each individual student to an institutional aid award designed to maximize the probability that you will meet or exceed your enrollment goals. We deliver multiple enrollment scenarios and work with your team to choose the right fit strategy for your institution. Like all of our models, these strategies are built from the ground up, accounting for shifts in market forces and student behavior, year after year.
Leveraged Outcomes
Our proprietary methods have helped many institutions improve net revenue outcomes while enrolling cohorts that meet or exceed cohort composition goals. We will help you build a comprehensive view of future enrollment and financial outcomes to inform longer-term strategies.
Award Tracking and Reporting
We help you make informed trade-off decisions to set achievable enrollment and financial goals, while helping you track each enrollment cycle every step of the way. Our experts provide on-going monitoring for in-cycle optimization, because today's enrollment landscape demands agility.
Work With Experts
We leverage four decades of experience to help you achieve your enrollment goals. Our client engagement leaders have deep experience on both the institutional and consulting sides of the enrollment world. Our clients value that experience and the breadth of perspective it brings.
Your financial aid strategy will be optimized—minimizing underspending and overspending.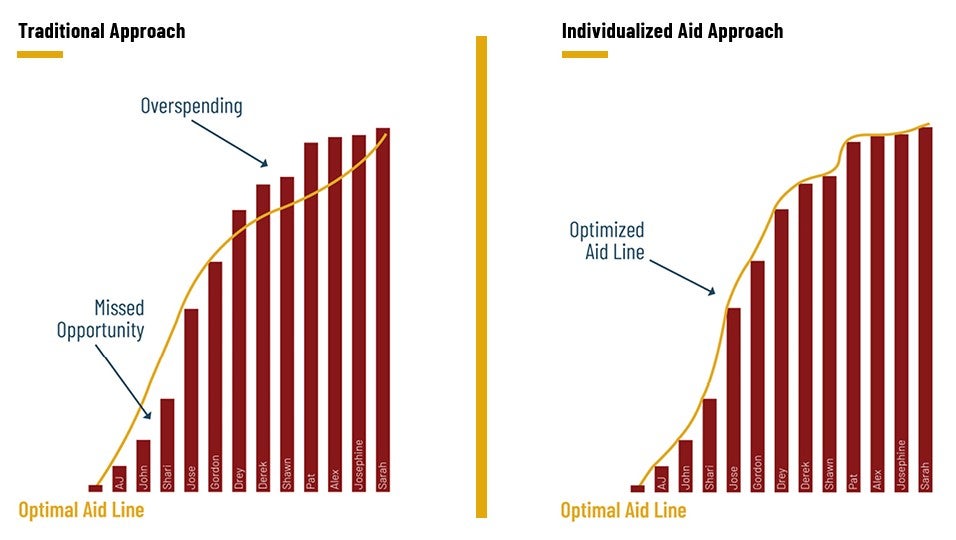 Financial Aid Audits
It can be difficult to know when change is needed. We can help identify the strengths and weaknesses of your financial aid processes and operations—from your grant and scholarship strategy to award communications. We'll give you a road map to prioritize your financial aid strategy optimization.
Custom. Never Templated. Agile Modeling.

Related Services.
Build your financial aid strategy.